Meet Our Staff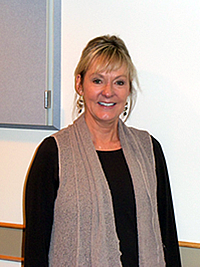 Janet Kadlecik, OTR
President and Founder of Work Capacities,LLC. Ms. Kadlecik has over 22 years experience in Industrial Rehab, over 320 hours of safety and ergonomics training, and over 24 years of fitness training. She has performed over 550 Physical and Work Capacity tests for injured workers.
Janet received a Bachelors of Science degree in Occupational Therapy from Colorado State University in Ft. Collins, Colorado.
 Ergonomics Consultant since 2001
Bachelors degree in Occupational Therapy
Certified Fitness Trainer since 1987 (ACSM Certified)
Abilitree Board Vice President (2005-2010) 
Employment & Rehabilitation Institute of California Work Capacity Evaluator Certified 1985 (Matheson)
Certified Weight Trainer (International Weightifting Association) 2011
State of Oregon Claims Examiner Certification (2007)
Oregon Safety and Health Association Committee Member (2012 – current)
City of Bend Accessibility Advisory Committee Member (2012 – current)
Disability Determination Services- Oregon State panel provider
Past employers include          NorthWest Pain Clinic (chronic pain treatment),         Good Samaritan Hospital Pain Clinic and Good Samaritan Hospital REO Re-Entry (head injury program for re-entry into community life),         Liberty NW Insurance as a Medical Case Manager for worker's compensation claims,           St. Charles Medical Center (Acute care Occupational Therapist).
Gary Rishitelli, MD
Dr Rishitelli performs Independent Medical Evaluations (IME's) as well as arbiter examinations through his business, Summit Occupational Health Consultants.
Dr. Gary Rischitelli, received a BA in Biology with Highest Honors from Saint Vincent College, Latrobe, PA in 1983; an MD from Baylor College of Medicine, Houston, TX in 1987; a Master of Public Health (MPH) from the Medical College of Wisconsin, Milwaukee, WI in 1994; and a JD from Northwestern School of Law of Lewis and Clark College, Portland, OR in 1994. Dr. Rischitelli completed an internship at Emanuel Hospital, Portland, OR in 1987-88, and a residency in occupational medicine in the Johns Hopkins School of Hygiene and Public Health in Baltimore, MD in 1995-96.
Dr. Rischitelli holds academic appointments as an Assistant Scientist in The Center for Research on Occupational and Environmental Toxicology (CROET) and Associate Professor in the Department of Public Health and Preventive Medicine at the Oregon Health Sciences University. He is also a member of the adjunct faculty the School of Community of Health, College of Urban and Public Affairs, Portland State University in Portland, Oregon. Dr. Rischitelli is licensed to practice medicine in Oregon and Washington and is a member of the Oregon State Bar.
Dr. Rischitelli is Board Certified in Occupational Medicine and Medical Toxicology by the American Board of Preventive Medicine. He is a Fellow of the American College of Occupational and Environmental Medicine (ACOEM), and is the Chair of the Board of Fellowship Examiners and is a member of the Board of Directors of the Occupational Physician Scholarship Fund. He was a member of the Board of Directors of the American College of Occupational and Environmental Medicine from 2000-2003.
Specialties
Occupational and Environmental Medicine, Medical Toxicology, Occupational Infectious Diseases, Public Safety Medicine, Epidemiology
Current Experience
1.  Asst. Scientist & Associate Professor-  OHSU
July 1996 – Present (15 years 3 months)
2.  Owner  Summit Occupational Health Consultants, LLC
1994 – Present (17 years)
• Expert consultation in Occupational, Environmental, and Medical Toxicology.
• Consultation, file reviews and independent medical examinations in occupational & environmental medicine, particularly toxicology, occupational infectious disease, disability accommodation, return-to-work or fitness-for-duty issues, drug testing, ADA compliance.